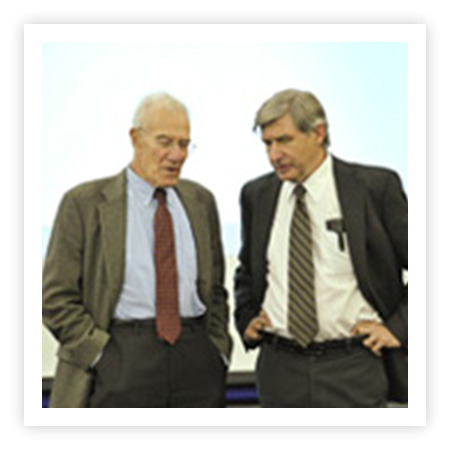 19 October 2010
The Feasibility of European Monetary and Fiscal Policies
Johns Hopkins University, Kenney Auditorium, 1740 Massachusetts Ave., NW, Washington, D.C.
Organized with Johns Hopkins School of Advanced International Studies

Intervenants: Martin Baily (Brookings Institution), David Calleo (Johns Hopkins), John Gabriel Goddard (World Bank), Dan Hamilton (Johns Hopkins), Jacob Kirkegaard (Peterson Institute), Hans-Helmut Kotz (Harvard University), Xavier Ragot (CNRS), Jérôme Vandenbussche (FMI)

This conference will explore macroeconomic policy coordination in Europe. How well have EU member states responded to the economic crises? How well can they work together to advance structural reforms that can provide the basis for future European growth?
Welcome and Introduction to the Conference

• Robert Solow, Président, Cournot Centre for Economic Studies
• Daniel Hamilton, Directeur, Center for Transatlantic Relations, Johns Hopkins University – SAIS



European Monetary and Fiscal Policy: Transatlantic Perspectives

• Martin Baily, Brookings Institution


Presentation Martin Baily (249.4 KiB)



• Jacob Kirkegaard, Peterson Institute for International Economics


Presentation Jacob Kirkegaard (424.4 KiB)



• Hans-Helmut Kotz, Harvard University



• Xavier Ragot, CNRS – French National Center for Scientific Research

Presentation Xavier Ragot (19.5 KiB)



The Feasibility of European Economic Policies

• David Calleo, Johns Hopkins University – SAIS


• John Gabriel Goddard, The World Bank

Presentation John-Gabriel Goddard (463.3 KiB)



• Daniel Hamilton, Center for Transatlantic Relations, Johns Hopkins University-SAIS



• Jérôme Vandenbussche, Fond Monétaire International

Presentation Jérôme Vandenbussche (43.7 KiB)



Questions and Answers